There are so many great neighbourhoods to choose from in our city!
In fact, some might say there's too many but that's a good problem to have. With so many great neighbourhoods to choose from, you'll be able to find the exact neighbourhood that fits your lifestyle.
Below we will take you through the neighbourhoods we recommend based on your age, career and most importantly the lifestyle you want. This is all based after years of working with our clients and hearing what most resonates with them at their different life stages. Hot neighbourhoods come and go but there is the thing, these neighbourhoods are consistently popular amongst the groupings. Click the links below and check out the best places to live in Toronto.
Where to live in Toronto in your 20's
Where to live in Toronto in your 30's
Where to live in Toronto in your 40's
Where to live in Toronto in your 50's
Where to live in Toronto in your 20's:
University was awesome. Between the community and social scene it provided, the simplicity of life was simply enjoyable. So, let's find a neighbourhood with the same awesomeness for you in Toronto! Here is where to live in Toronto in your 20's.
Liberty Village
As the saying goes, "all work and no play…". However, Liberty Village is about all work and all play. If you're a young professional and aspiring future CEO, Liberty Village provides great condo options near some great companies. From media and web companies to start-up app companies, there's plenty of excitement only steps from your home.
King West
Do you enjoy Toronto's nightlife and the club scene? Are you also starting a career? King WestKing West is a 20-minute walk from the work life on Bathurst and King. You can grab a coffee or a quick Uber on your way to work. In the mornings, Wellington Street West and King Street West is a runway of young workers as strolling into work. In King West, the nightlife can't be beaten. On Thursday nights, people pour out of the Freed Development condos on Portland and Stewart Streets to enjoy the hotspots that Toronto and King West have to offer. If you're wondering where to live in Toronto that has a great scene, it's King West.
West Queen West/Ossington/Trinity Bellwoods
Looking for more of a creative scene? Are nightclubs not your thing? Then Trinity Bellwoods through Ossington and on to West Queen West is the place for you. The nightlife is less club-oriented than King West with more of a funky, cultural vibe. From art galleries, hole-in-the-wall and diamond-in-the-rough coffee shops, bars, and restaurants, you'll find your creative flow in any of these places, which is what makes this neighbourhood so special. Trinity Bellwoods Park is also a great feature that can't be beaten on hot summer evenings, weekend get-togethers and Sunday-Fundays. This is an area where you can choose from cool condos and century homes that are full of character. 
Where to live in Toronto in your 30's:
At this point, you're probably knee deep in your career or have big plans to start your own business. You may have found your significant other and are thinking of settling down or simply want some space to get outside and enjoy the fresh air.  The next set of neighbourhoods are about comfort and the enjoyment of fun and culture. Here is where to live in Toronto in your 30's.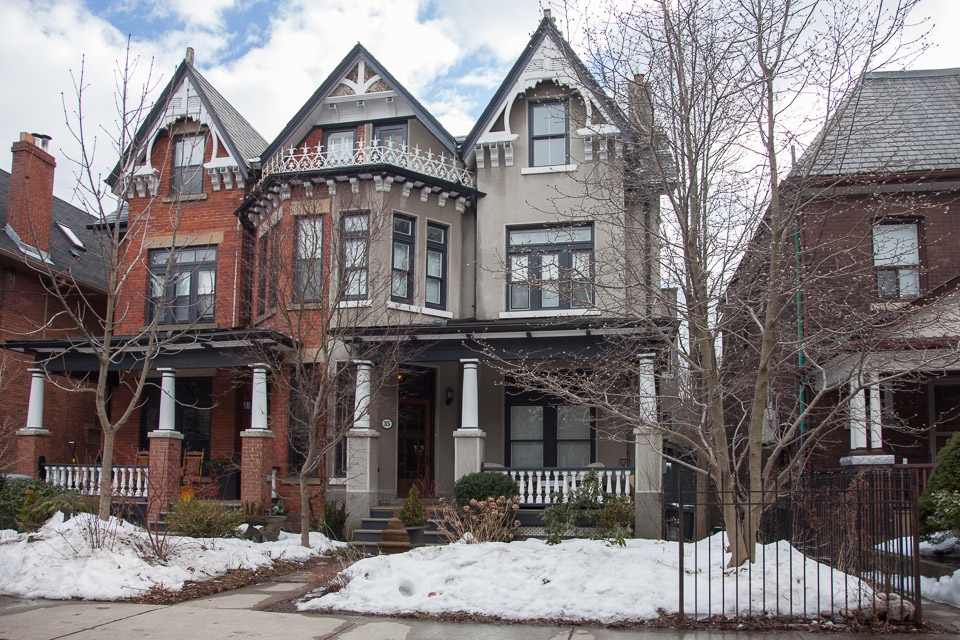 Roncesvalles
Perfect for young families and outdoor enthusiasts, Roncesvalles is a mix of culture and adventure. Among the attached and semi-detached homes are dozens of restaurants, bakeries, and cafes. Toronto's "Little Poland" has a European, small-town feel in the heart of the big city with a warm and inviting community. Being so close to High Park means it's a great area for adventure. From waterfront biking to walking the trails, this tight-knit community is a perfect spot for enjoying the outdoors.
Riverdale
Located just east of Toronto's downtown core, Riverdale is surrounded by tree-lined streetscapes and two and three story Victorian homes that have been redeveloped into homes for young families. If you're career driven and working, you'll have convenient access to transit for your commute to work. Riverdale is surrounded by colorful shopping districts and open green space like Riverdale Park, which offers a place for sports and tobogganing in the winter-time. The neighbourhood is known for its arts and multiculturalism. From the many art galleries along Queen Street East and the various cultural neighbourhoods, it is the heart of Toronto's Greek district and the largest Greek Neighbourhood in North America.
Little Italy
If you're looking for trendy restaurants, the best bars in Toronto, and a neighborhood with a lively buzz, Little Italy is the neighbourhood for you. Between the detached and semi-detached single-family homes are Italian restaurants and trattorias which provide a great social atmosphere as well as food. The café's in Little Italy provide outdoor patio space for you to enjoy your espresso and weather in the summer months, or simply walk in and warm yourself up in the winter months. 
Where to live in Toronto in your 40's:
Your kids are going to school. You're looking for extra-curricular activities for them and yourself. The next set of neighbourhoods are great places to raise a family and stay young at heart. Here is where to live in Toronto in your 40's.
Bedford Park
You'll find young families and retiree's in the quiet, tree-lined street of Bedford Park. With public and private schools, parks, playgrounds and community centers, Bedford Park is a great place to raise a family. Surrounding the detached and semi-detached homes, you'll find great shopping on nearby Yonge street. You'll also find the exclusive Rosedale Golf club, home of the 1912 and 1928 Canadian Open and one of the best classic golf courses in Canada. Living here means convenient access to shops, bars, and restaurants in Toronto's core with Yonge Street just a quick subway ride away.
Wychwood Park
Tucked away in a private ravine setting, surrounded by tree-lined streets atop wooded hills is Wychwood Park. Set in a stunningly beautiful pocket of forest, you'll find CEOs, lawyers, architects and other accomplished professionals living in this private, gated community near Bathurst Street and Davenport Road. Whether you're looking to raise kids or simply live in an idyllic community, Wychwood Park is comfort and suburbia in the heart of Toronto.
The Annex
The Annex is perfect for those still young at heart. With an average income of $66k, residents here are accomplished professionals who enjoy their nightlife. As the most diverse area of Toronto, with residents from all walks of life, the Victorian and Edwardian style homes border the University of Toronto where both students and faculty live among the tree-lined, one-way streets. Enjoy a relaxing weekend among the restaurants, pubs and cafes, and vibrant social scenes or enjoy a unique shopping experience on Bloor street and in Mirvish Village on Markham Street.
Where to live in Toronto in your 50's:
You maybe be at the height of your career, seeing your kids off to college and/or thinking about retirement. Here we have neighbourhoods that are quiet and beautiful, neighbourly and fun. Here is where to live in Toronto in your 50's.
Summerhill
Just north of Yonge and Bloor, you'll find a quaint, tree-lined neighbourhood with quiet streets and beautiful homes. Complete with convenient access to neighbourhood shopping and the city's core, Summerhill is one of Toronto's most desirable neighbourhoods. From enjoying the outdoors with an abundance of park land to indulging in the entertainment districts of Toronto, Summerhill offers a relaxing home life with an opportunity for fun activities.
2. Republic of Rathnelly
Situated at the bottom of Avenue Road Hill, Rathnelly is a charming neighbourhood in the heart of midtown Toronto. The people of this picturesque little area value neighbourliness and a good party. To celebrate its long history of rebellion and fun, the 400 or so residents of Rathnelly host a bi-annual street party. If that's not enough fun, nearby south of Davenport Road and East of Avenue Road is the Bloor-Yorkeville shopping district for all your shopping needs.
Lawrence Park
If you're looking to settle down by gardens, gently rolling hills and grassy parks, Lawrence Park is for you. One of Toronto's first planned gardens, it was ranked the wealthiest neighbourhood in all of Canada in 2011. Lawrence Park is a peaceful and calm setting for the accomplished professional. Traffic remains at a minimum and is perfect for the quiet life. From English cottage style homes to Tudor Revival, Georgian, and Colonial Style homes, there's a variety of homes to fit your lifestyle. If you're not relaxing in the neighbourhood, you're most likely frequenting Yonge and Lawrence and indulging in fashion boutiques, children's stores, sporting goods stores, casual restaurants, gourmet dining, or one of the many bakeries and coffee shops.
As you can see there are many great places to live in Toronto.  From nightlife to laying low, from relaxation to fun, Toronto has something to offer everyone.
Starting a family of your own? Check out my Best Places to Raise a Family in Toronto article!
If you'd like to know more about the great Toronto communities, click here for our full neighbourhood guides.